We've seen an increase in flood related incidents across the borough. Whilst you can never eliminate the risk of water entering your home entirely, you can take a range of steps to reduce the risk and impact should water penetration occur. Improving property flood resilience will not only increase the level of protection against flooding, but also reduce the extent of damage should the worse happen.
To support our residents Servicestore are offering a range of flood prevention measures. These are often cost effective and can prevent serious damage before it's too late.
The range of options are tailored to your home and include the following;
Flood Barriers 
Flood Barriers are suitable to all types of openings, from single doors to larger openings such as roller shutters or driveways. There are no width or height limitations due to modular designs.
Permanent bolted in option £1100 + VAT supply and fit;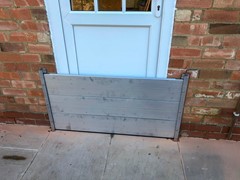 Polypropylene temporary flood shield option £525 + VAT supply and fit;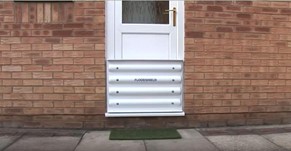 Flood protection cubes 
Protection cubes are an environmentally friendly and cost effective way to protect your home from water flooding. 
Pack of 20 inflatable flood protection cubes - £175 supply only.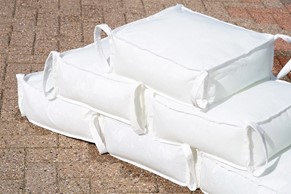 Anti Flood Air Bricks
An automatic, permanent flood protection solution. Anti-flood Air Bricks use rising water to automatically shut off, inhibiting water ingress through the airbricks and therefore flooding underneath the property.
£250 + VAT supply and fit.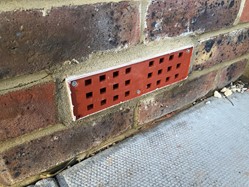 Vent Covers
A rapid-deployment option for preventing water ingress to existing air vents. Vent covers offer flood protection to low lying vents.
£80 + VAT supply and fit.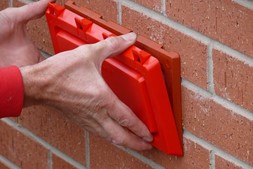 Non- return valves
A simple and cost-effective solution to prevent backflow of sewage into a property
(2 Valves installed to outgoing pipes)
£345 + VAT supply and fit.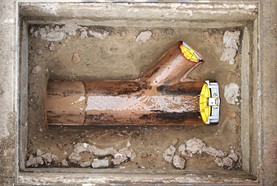 Back Water Valves
A simple device used to prevent backflow through smaller wastewater pipes such as kitchen sinks, downstairs showers, washing machines and dishwashers
(up to 10 Valves)
£475 + VAT supply and fit.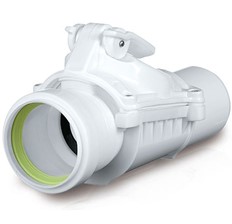 Surface water pumps 
Surface water pumps are positioned outside on the ground surface during rising water to drain water away from the premises.
A Surface Water Flood Pump is designed for draining surface water and flood water down to very low levels, to as low as 1mm.
£400 + VAT supply only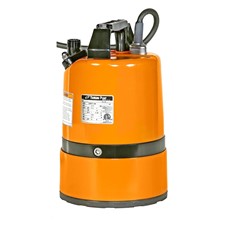 Replacing hard surfaces with permeable options
Most driveways rely heavily on hard landscaping, which often creates problems during heavy rainfall, with water having nowhere to go.  
Solutions can be as simple as replacing hard landscaping with gravel, it's the cheapest permeable option and it allows water to drain quickly.
There is side access into the garden that consists of a concrete covered walkway. This can be replaced with a gravel path.
Prices from £250 + VAT per sqm.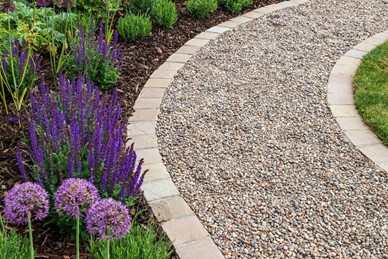 Permeable Paving Options
Other options to gravel are permeable paving products such as brick pavers, which have small holes to allow the water to drain through them, and cellular pavers which are made from recycled plastic and hold aggregates together. You could also consider a grass guard, which means you are still able to drive vehicles without the grass turning into mud.
If there is a small concrete patio area at the rear of the property (approximately 30sqm) which can be replaced with permeable pavers.
Prices from £250 + VAT per sqm.

4. Collect Rainwater
A water butt can collect rainwater from drains. Collecting the rainwater in key places will stop excess water from pouring onto the ground. Water from water butts can then be used to water plants or even wash cars.
Price on application.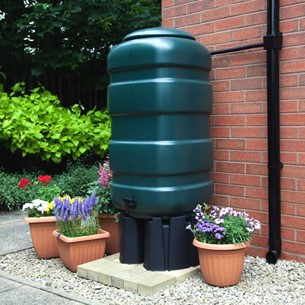 250L Water butt including tap and stand connected to a down pipe.
£190 + VAT Supply and Fit.
This is just a small sample so please contact the team to find out more and book a free home survey.
Multiple property discount of up to 15  % is available should 5 or more properties on the same road require flood prevention measures at the same time.
For more information please contact the team using the contact us button.
High standards
Highly skilled
Our team has many years of experience working for residents in Waltham Forest and beyond.
Fully insured
Our team are insured with £5 million in public liability insurance, so your home is in safe hands.
Fair pricing
All our services are priced based on the time we estimate and quoted fairly.
"The guys have completed the electrical work. My lights have been installed and the light switches connected. They provided a fantastic service and were tidy, polite and professional."
"I was impressed with how reliable, helpful and friend my handyman was and knowing that council staff are doing the job and it's guaranteed too is really reassuring."
"Even though it was a difficult toilet to fix. They did a sterling job and I'm extremely happy with the works that were done. They are brilliant!"